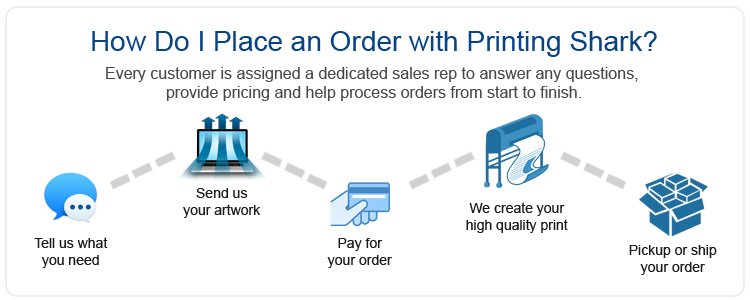 Placing an Order is Easy and Fast with Printing Shark
Placing a printing order with Printing Shark is very easy and we have fantastic customer service agents to help you through the entire process for a headache-free order experience.
Simply tell us what you want (email, phone, order form on our site) and we will provide you with a quote right away. Then once you confirm that our pricing is terrific you can send us your artwork for your order. We will create and email your invoice link so that you can pay online using our secure interface. Once paid and artwork has been prepped for production, we will print your order in our high tech facility with state-of-the-art printing machines. Extra care and review will be conducted by our quality assurance team to ensure that your order is correct. We will then package and ship your order (free delivery in some regions) or have your order ready for pickup at one of our local order pickup points.
We're here to help, if you have any questions – just ask!