Organize your message in a professional booklet
Booklet printing is a specialty of ours and can be used for product manuals, inserts, quick-start guides, employee handouts, and instructional books. Booklet printing combines a necessary way for you to communicate with your customers with a way to keep your message in front of your customers in an organized way. Depending on the impact you want to make, booklet printing can be economically done in black and white or full colour.
Reinforce your message with a booklet
Produce a booklet in a single colour or in full colour
Use booklets for product manuals, and inserts
Booklet printing can keep your message on track
High resolution, low prices
Booklet Printing Product Options
Cover Options: Self Cover (80lb or 100lb gloss text) or 14pt Hard Cover
Finishing: Fold, collated, saddle stitched, boxed
Printing: Full color CMYK: 2 sided (4/4) with no coating
Sizes: 8.5″ x 5.5″ and 8.5″ x 11″
Pages: 8pg – 64pg (cannot go above)
Binding: Saddle stitch, portrait or landscape
Production Time: 4 – 6 business days, 3 – 4 business days (available for some options). Product needs significant drying time and cannot be rushed.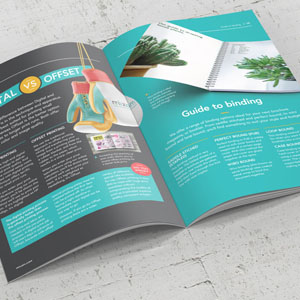 File Formats:
We accept the following file formats: .TIF, .TIFF, .EPS, .AI, .PSD, .JPG, .PNG & .PDF. It is the client's responsibility to make sure their artwork is setup correctly and print-ready if the client is to supply artwork for printing. If Printing Shark is creating the artwork, we will ensure your files are setup correctly for print and provide a digital proof for approval.
Resolution:
All file formats must have a minimum of 300 dpi (dot per inch) resolution. Images designed for the web typically cannot be used for printing as they have a low screen resolution of 72 dpi. Print images need to be created at 350 dpi or there will be a substantial drop in the image quality.
Colour Mode:
All colour artwork and/or images must be provided in CMYK (cyan, magenta, yellow, black) colour mode. All black & white artwork and/or images must be provided in gray scale colour mode.